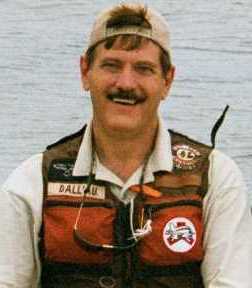 Andre M. Dall'au

of Pinecrest, Florida
Phone and Fax 305-663-3454
E-mail jodallau@msn.com
An accomplished Producer, photogrpher and video camera operator for the LOTI Group, UDT/SEAL Museum, The History Channel, and various publications such as GLOCK annual, BlackHawk annual, Tactical Equipment Review, Tactical Weapons, POLICE and S.W.A.T. magazine.
Provided commercial photography for Gerber Legendary Blades, SiGARMS, LaserMax, Chris Reeve Knives, Manzella Productions
And - Stellar Rigs

Professional Background:
Executive Producer LOTI Group video:Gun In The House
Co Producer LOTI Group production: Inside Swat
Associate Producer LOTI videos including, but not limited to: Manstoppers, Winning Paintball, Red Cell, Ultimate Sniper, Navy SEAL PT Challenge, Navy Seal Burnout Challenge, Navy SEALís BUDs Training.
Assistant Director for History Channel's
"The Complete History of the US Navy SEALs 1999

Accomplishments:
Military US Army/Air Force R.O.T.C. 1971-1973
US Air Force Pilot Training Scholarship, University of Miami 1971-1973
Honorable Discharge USAFR 1975
Fire Brigade Leader: trained by Dade County Fire Department and served as an enclosed structure fire brigade leader responsible for responding to on-site fires and directing the fire brigade members.
FPL Quality Improvement Department: Participated in the achievement of the Deming Award (the only American company to receive this honor).
Senn Delany Corporation Leadership Consulting Group Facilitator training

Community Activities:
Photographer/Cameraman for UDT SEAL museum 1995-present
Lifetime member of UDT Seal Museum
Director, UDT-SEAL Museum 2000-2005
Other Activities:
Gun safety specialist and seminar speaker for various groups including: South Florida Firearm Owners Association Militaria Collectors Society of Florida Various radio/television programs Licenses and Certifications: NRC Reactor Control Operator 1982 OP-5936 Docket Number 55-7987 NRC Senior Reactor Control Operator License 1986 SOP-20399 Docket Number 55-7989 PADI open water SCUBA certification

Volunteer Work:
Volunteer for Catholic Hospice Inc. 1994-present
Pillar Member of United Way

Educational Background:
1973 - 1977 University Of Miami Miami, Florida
Bachelor of Science Biology/Chemistry
1980- 1982 FPL Reactor Control Operator School Miami, Florida
1983-1985 FPL Senior Reactor Operator School Miami, Florida
References: Available on request
















All Buttons and Custom Graphics by: