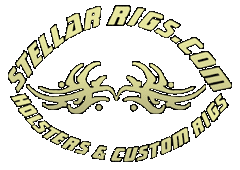 The"Dundee" Concealment Rig
Fully Concealing a Large Fixed Blade*
This rig is for all those guys that love to carry their big fixed blades but only get to do it when they go camping or hunting. Everybody knows if you carried your big knife around on your belt it would not only attract attention but you might not be allowed into some establishments like movies or restaurants. Being asked to "leave that thing in your car" could put you behind schedule if you park any distance from the theater. The Solution: The Crocodile Dundee Rig by Stellar. To dramatize this point, we are using a Rambo III and a small to medium sized model (5'7").

The Rambo III is nearly 17" long
That's a lot of knife to hide on anybody! Putting it under a vest or jacket will fit up front but it would pop into sight every time you reached up or out. About the only place to put it would be in the tapered area from the shoulders to the waist (if you have bigger shoulders than your waist). Although the original sheath has two holes at the knife tip to tie down on your leg (or over the shoulder for this application). With enough practice just about anybody can get used to unsnapping it from behind, but there is still the issue of putting the knife away when you are done using it. Getting the strap & snaps together take some serious practice! If you have to use the knife for defense you will prolly be so "pumped up" that you can't even do it without taking the whole thing off. The answer is a specially made Stellar Rig for this kind of carry! We have added the "side pull" strap at the hilt. This actually keeps the knife diagonally across the back. On smaller knives or really big men this strap just keeps it from "wandering."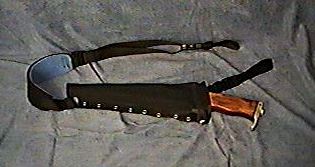 Rambo III (shown here) with padded shoulder strap and quick releases at belt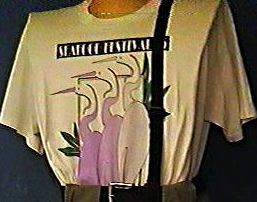 There are no need for retaining straps or snaps to fuss with. You simply "unlock" the sheath as you draw the knife. This allows quick and safe presentation of your blade. It also allows a "no hassle resheath." Without a vest or jacket it looks like a common suspender (from the front) with a knife hanging over your shoulder (from the back).
The concept and presentation :
If you saw the original movie, Dundee was confronted by a "would be robber" brandishing a switchblade. Dundee's girlfriend screeched "he's got a knife!" Dundee casually reached behind his back, drawing his Bowie from up under his vest, said "that's not a knife - now THAT'S a knife." as he produced his large Bowie.
We designed this rig to allow you to carry your fixed blade the same way - upside down and concealed under your vest or waist jacket. It is fully adjustable like suspenders from the front with a quick release for your belt in the front and back.
Double-click on image for Quick-Time movie for demonstration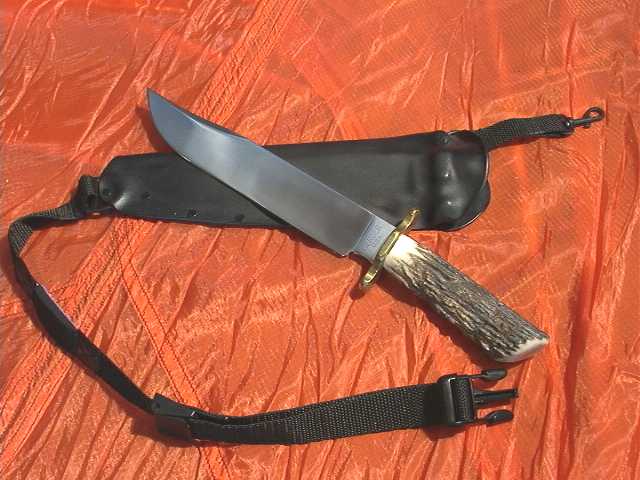 Shown above - Gerber Bowie with Sanbar Stag handle (discontinued). This Knife had to have the brass guard "washed out" before building the Dundee Rig. This rig has 1" "quick release" buckle up front and 3/4" snap swivel for the rear. Snap swivels and Quick Release buckles are preferential requests and are billed on a "case by case" basis.

Crocodile Dundee Knife Rigs start at $150

Each rigs is custom made on *your* knife to *your* measurements and will run 6-9 months. We will build it to your custom made knife or to a current manufactured knife. If you choose to purchase a new knife for this rig, you should know that we will match or beat other knife dealers pricing and save shipping at least one way.

*We suggest you consult us about a knife you are considering for this rig. The consultation is free. The advice is priceless.

* We are not responsible for your local laws or keeping you "legal." You need to know the knife carrying laws in your state.

** Cutting your clothing or injuring yourself are both avoidable. Before strapping it on and hitting the streets, We suggest you familiarize yourself with the rig in front of you on a table. This rig is for professional use. The Kydex lock takes getting used to before putting it behind your back.

All Buttons and Custom Graphics by: