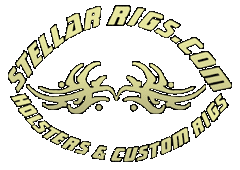 Full Size Pocket Magazine Card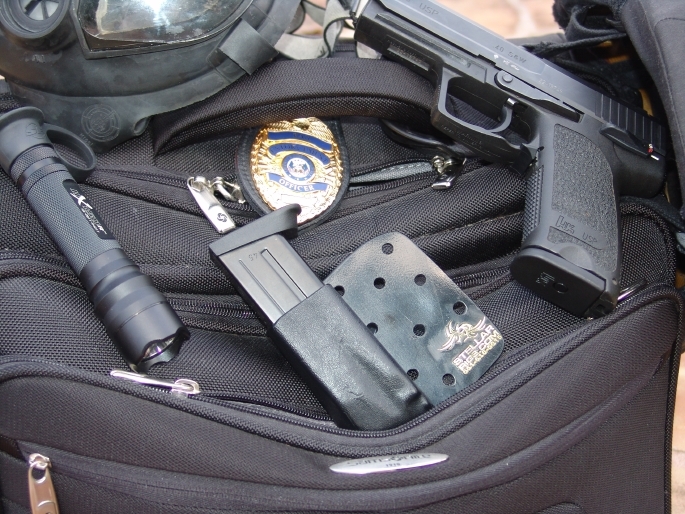 For all those of you that carry a concealed pistol but don't want the extra print that comes with belt magazine carriers Stellarrigs has an option. Many Full Sized "duty" or "Tactical" pistols have compact or even subcompact versions that will accept the full size Hi-Cap magazines. A Glock 27 may look a little funny with a Glock 22 magazine hanging from it but if you need a second magazine; more bullets is always better. A full size hi-cap mag is frequently used as a reload for a concealed carry auto. However, in a pocketful of keys and gear, there is no quick recovery or assurance that the magazine is in the right orientation without looking down and losing situational awareness. If you ever put a full size gun's magazine in a back pocket loose, you regretted it as soon as you sat down. Using the full Size Pocket Magazine card on your weak hand side, your wallet goes into the other back pocket. Your spare Magazine is now easy to access and in a known orientation for a fast tactical reload. Ideally, you would would want it standing up as far away from your spine as possible - like a pocket knife; easy to access, near your hip.
While not designed to keep pocket lint out; This item is made for action. The Full Size Pocket Magazine card puts the base plate of the magazine at the top of your back pocket for an easy and reliable grasp by your weak hand. All the time minimizing the print during carry and keeping the magazine standing upright without discomfort. We even allow space to "sandwich" your I.D. case. For good tropical ventilation, we can drill the flat side of the Mag Card for maximum ventilation (as shown above). The "V" model is only $3 more. As another option, if you want the flat side out [to mask the magazine completely], you simply order the right pocket model and flip it over in your left pocket.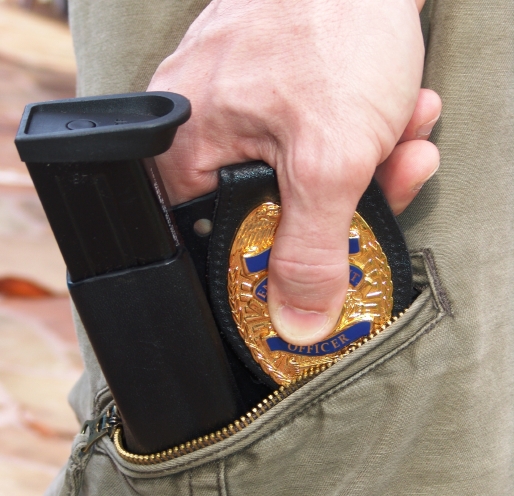 Standard Mag Cards are $30.99 for Left or right Pockets. The "V" (ventilated model) is $33.99 (as shown)
---
Photos by: Andre M. Dall'au
---
To further illustrate the use of the Stellar MagCard our web master has provided some more images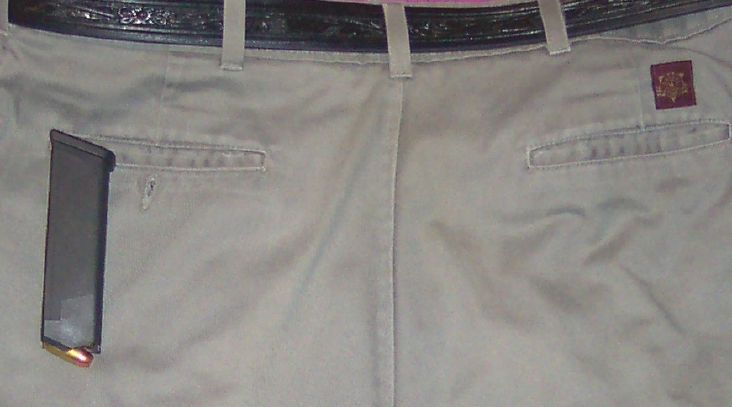 The Goal is to have your magazine standing up straight and as far away from your spine as possible for your weak hand. Right handed shooters will want to access their mag using their left hand, from the left back pocket. We always point bullets to the spine to put the square side of the mag away from your spine. If you want it backwards we will make it for you at no extra charge.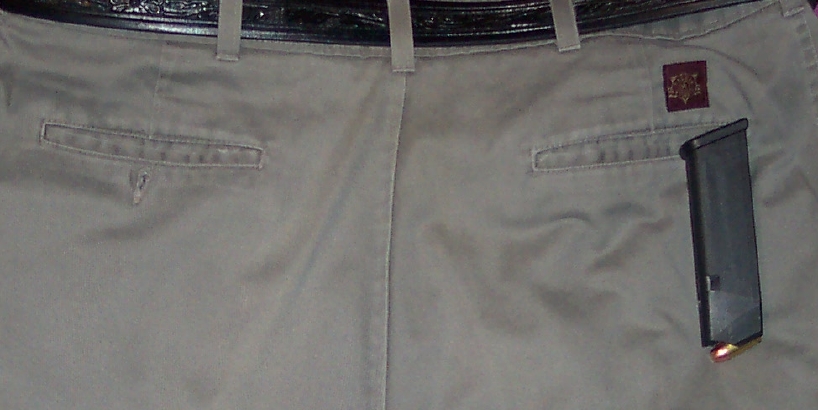 For left handed shooters the weak hand (right hand) draws the magazine from the right back pocket. You order the right pocket model.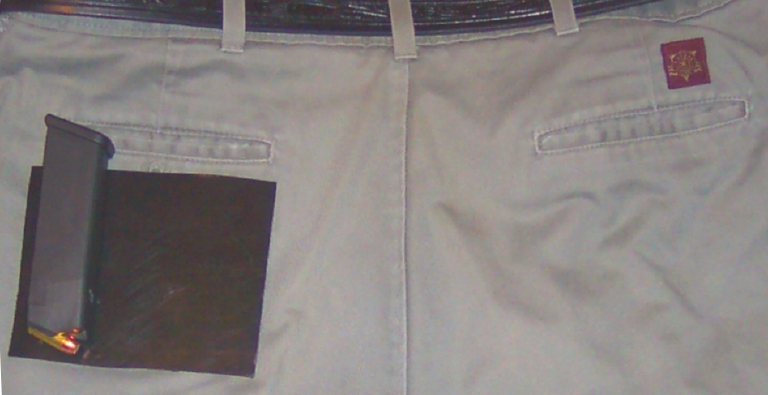 On a 5 1/2" card the magazine will stand up straight and have little chance of rotation in most pants. Cutting this down to a smaller card can be special ordered at no extra charge.
The Stellar Mag Cards are in stock for: H&K Full Size USP 40/9mm, USP .45 as well as the USP Compacts in 9mm, .40 S&W and .45. Also Glock 9mm/40 and 10mm/.45, ParaOrdnance .45 and 1911 .45
$30.99


Add a Tuf Cloth to your order for only $8.99 ($9.99 for Marine Grade)

---

All Buttons and Custom Graphics by: